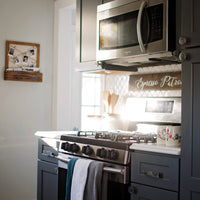 Glassia | Indigo Mist Glass Knob | 1.5" Circle
This collection with different layers of colored transparent and misty glass creates depth and an interesting luminescence. Indigo Mist is available in three sizes: square knob, circle knob, and 3" cc pull.
Sections of a glass sheet are cut to size based on areas with optimum design and color mix. Four layers of design and clear are fused together in the kiln at temperatures above 1400 degrees Fahrenheit. This creates a 1/2" thick glass with substantial depth. Specialty adhesive is used to secure the stainless steel to the glass hardware.
Glassia Glass Cabinet Hardware:
Dimensions: 1.5" circumference 
Projection: 1.25"
This is a hand-crafted and made to order product. Some variation in design and color may occur. Orders will ship in 5-7 business days.