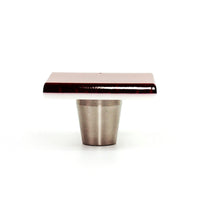 Viva Magenta Glass Knob | 1.5" Square Knob
Meet Pantone's 2023 Color of the Year: Viva Magenta! It's a bold, expressive color that brings an uplifting energy to any space.  This collection of luxury cabinet hardware is made for maximalists or minimalists who LOVE color!
Each knob or pull features two layers of glass, the white base provides a clean slate for the magenta to POP!  Your choice of two trending metallic finishes on the posts: gold or stainless steel.
VIVA MAGENTA GLASS CABINET HARDWAE DETAILS:
Available in a wide variety of shapes and sizes: 1.5" Circle Knob, 2.5" Circle Knob, 1.5" Square Knob, 2.5" Square Knob, 3" CC Pull, 4" CC Pull, 3" CC Oblong Pull, 4" CC Oblong Pull, 3" Half Moon. 
For added presence, see the Cove Knob, and Cove Pull which feature full metal bases and expanded finish offerings.
Dimensions: 1.5" X 1.5"
Projection: 1"
This is a hand-crafted and made to order product. Some variation in design and color may occur. Orders will ship in 7-14 business days.